Job Opportunities for CSSD Technicians and Other Healthcare Practitioners
Do you have friends or relatives in the Healthcare Industry, who are currently looking for job opportunities abroad?
Check out these vacancies from LifeLinks International Resources, Inc.
This is a manpower pooling for the biggest private hospital chain in the Kingdom of Saudi Arabia.
Jobs available include CSSD Technicians, Dental Assistants, Staff Nurses, and many more.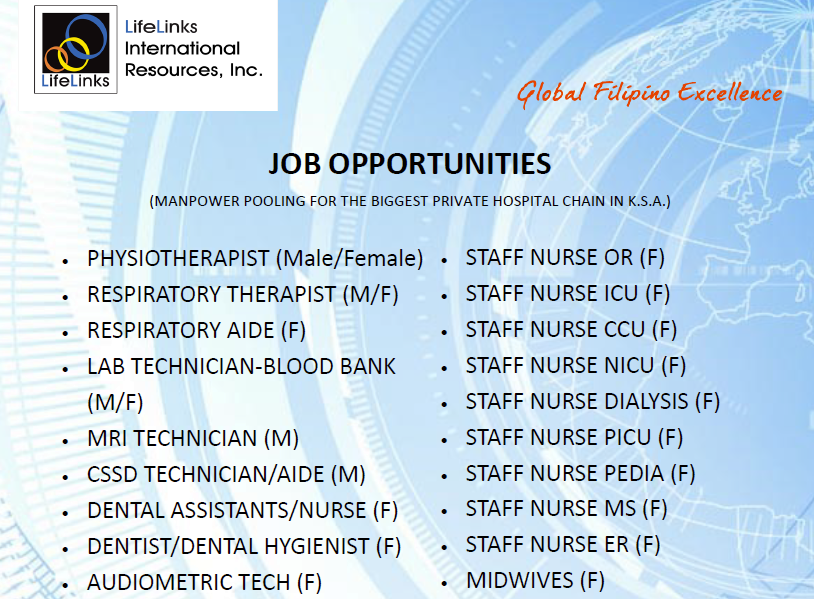 Qualifications:
At least 2 years of Hospital Experience

PRC Board Passer

Age Requirement: 25-35 y/o

Should pass Prometric Exam to work in KSA
If the employee gets certified, COST of the Prometric Exam will be reimbursed by the Employer.
For qualified applicants, you may send your CVs to myjob@lifelinks.com.ph
Contact No: 7981111 local 3201/3202
Contact Person: Nicole or Jane
Note: During application, please mention that you saw this advertisement from CSSD Technician Hub website. (Thanks!)
Source: This info was sent to us directly by Nicole of Lifelinks.
Disclaimer: Please coordinate directly with Lifelinks and do your own diligence when applying for any position. CSSD Technician Hub is not liable for any damage on your part.